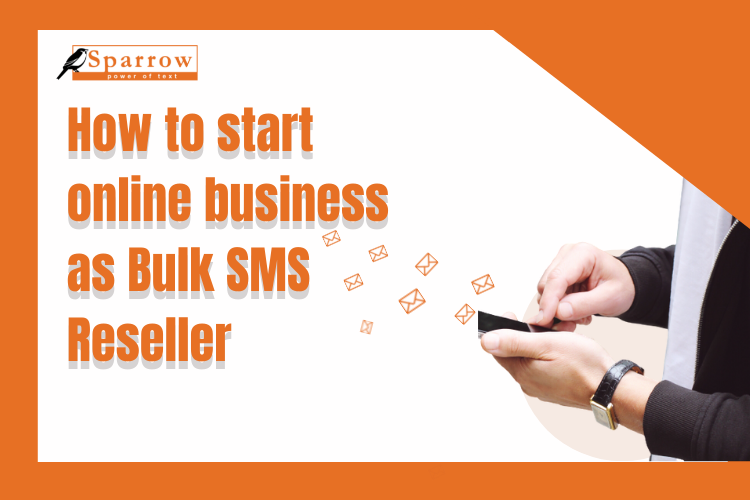 Are you someone planning to start your own business in 2022? Start your business as a Bulk SMS reseller by partnering with Sparrow SMS.
If you've already worked as a Bulk SMS reseller and are interested in understanding more about Sparrow SMS bulk SMS reseller, go to the section below titled "How does Sparrow SMS bulk SMS reseller work?"
SMS Marketing is the most convenient approach to reach out to a large group of people. Because of the increased use of mobile phones, the huge demand for bulk SMS is increasing day by day. As SMS has a high open rate, you can rest assured that your clients will see and read your message. Furthermore, because SMS does not require an internet connection, your message reaches clients in a matter of seconds.
To begin, SMS resellers are businesses that resale Bulk SMS to their clients. The service is a low-cost and dependable option. The bulk SMS reseller service provides a diverse platform for your business to grow. Sparrow SMS reseller program can help you provide a better user experience for your customers. You can start your business as an SMS provider as a reseller using a fully branded platform.
Benefits of Bulk SMS Service Provider in Nepal
Reach new customers and expand your brand:

You can expand your commercial relationship with customers or clients and reach new customers.

Avoid extra expenses and time:

You can save money and effort by not hiring traveling salespeople or organizing staff training.

High-Profit margin: You can save a lot of money upfront. Because you are ordering SMS in bulk, you will receive SMS at a discounted rate.
Other Benefits of Reseller 
Executable even with the low initial investment

Make the profit you want by setting your own price. 

No hidden and extra charges

Time and Place flexibility in work

No technical knowledge required 

Make the profit you want by setting your own price. 
How does Sparrow SMS bulk SMS reseller work?
Sparrow SMS provides you with a Reseller Panel, which allows you to become a Reseller super admin. You have complete control over the SMS rate. You can also make your own dashboards to meet the needs of your clients. However, you must get Janaki Technology's approval before starting the Reseller client's account.
Sparrow SMS reseller includes: 
Sparrow SMS reseller has a number of benefits and features that allow you to improve client interactions while also providing excellent service.
Quick Setup

Wholesale pricing 

API Integration 

White Label support 

White Lable Websites

Robust Control Websites

Complete control and access of all clients 

Huge SMS credit discounts on the purchase of bulk SMS  
What makes Sparrow Bulk SMS resellers unique?
Sparrow SMS is Nepal's largest and leading bulk SMS provider. It has a client base of over 5000 people. Here are a few features that distinguish the Sparrow Bulk SMS reseller service.
Easy and Quick Signup 

Different message routing options (NTC, Ncell, smart cell)

Quick Sender ID activation

No hidden charges

Affordable pricing

24/7 customer support

Availability of custom APIs for customers
How do I become a Sparrow SMS reseller?
Now that you've read this far and decided to join the SPARROW bulk SMS reseller, you can register on our website or call one of our SMS marketing experts at 9802005007 or 9801856376.