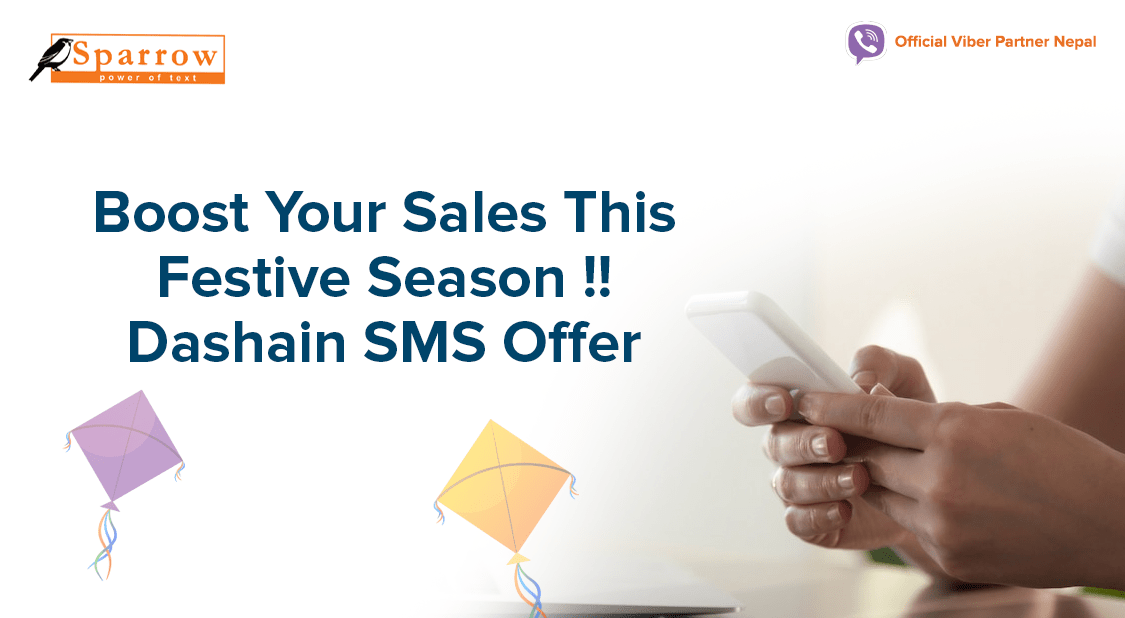 Bulk SMS can increase your sales by up to 200% in just a couple of days during the festivals.
The festive season is here offering a great opportunity to reconnect with your customers and clients. As the festive season gets underway, bulk SMS messaging can remain the best way to market your products and services and boost your sales volume.
The customer has access to mobile phones 24/7 and 90% of text messages are read within three minutes of delivery. With this fact, SMS tends to be a more versatile communication tool than email, giving clients the ability to reach each customer instantly, alerting them of one's Dashain & Tihar special offers and promotions with a proper call to action, which will drive large groups of traffic, within minutes.
Dashain SMS Offer 2079!!
Dashain SMS Offer is life at Sparrow SMS. Now with Sparrow SMS, you can get 3000 SMS at Rs 3000 only.
Zero System Charge
No expiry of SMS
+ Additional Bonus Offers
The offer is valid till the 14th of Ashoj 2079 only.
Terms & Conditions applicable.
You can contact us at 9802005007/8, 9802005011 for claiming the Dashain Offer.
Many popular industries like liquor, and automobiles, use bulk SMS for marketing their products or services during the festival season, especially during Dashain and Tihar.
Let's know more about how you can use Bulk SMS this festive season to boost your sales:
Invite New Customers:
One of the effective ways of showing interest and contributing to the high level of customer service is by sending welcome SMS to a new customer. Its good practice to let the new customer know that their details have been received and their interest in the company is appreciated right after they have signed up for a newsletter or opted into any marketing campaign.
Discount Offers:
Researchers have proved that 97% of text messages are opened within 3 minutes. 42% of shoppers say that the most important factor for festive shopping is sales and discount. So there is a great opportunity to inform your discount offers via SMS to your valued customers.
Send Festival Greeting SMS:
The festive season is the high time for sales as people want to go shopping, especially in Dashain and Tihar. So this can be the right time to send the festive greeting SMS bringing customers to your shop again.
Include a CTA button to promote your online presence:
Your customers simply text and click away from viewing your site. You can include links in SMS messages to encourage the customer to visit your website or take them to festive offers or new products wherever you want your customer to opt-in.
Order confirmations and delivery updates:
After the customer adds any of their favorite product to the cart, they become impatience to get their order. In this time, contacting customers with a text SMS letting them know about their order confirmations and delivery status can play a significant way to win their trust and increase own value of customer service.
The list is endless!! Make your customers happy with amazing discounts and offers from this Dashain and Tihar. Your customers like to receive text messages from you. This festive season takes advantage of SMS marketing and engage your customer directly, at a personal level, and direct them straight to your business.
Try our free demo with 10 credits! Or contact us today for the best festive deal.