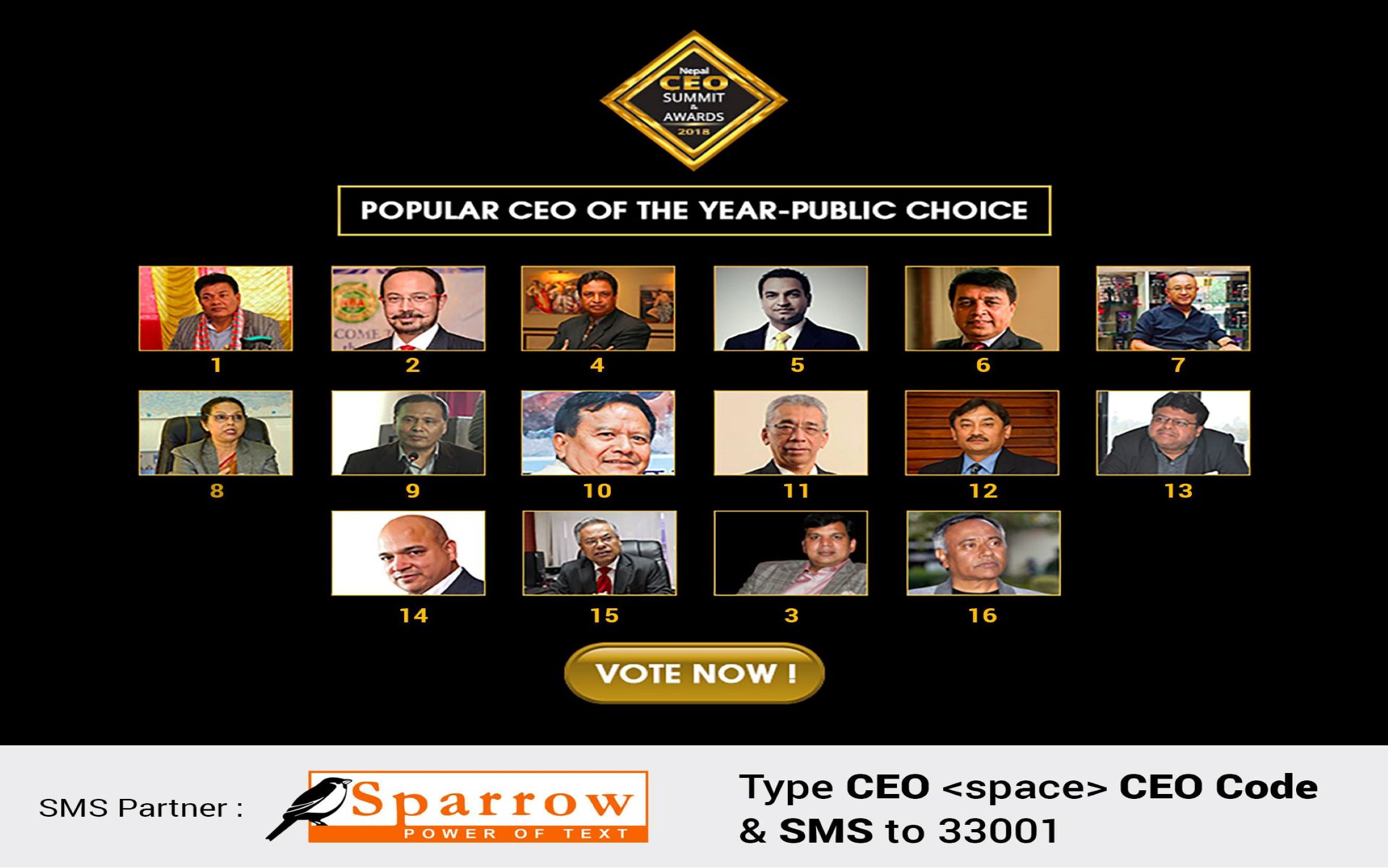 To vote for your favorite CEO, Type CEO <space> CEO Code and SMS it to 33001
Business Plus Television and CEO Club Nepal in collaboration and association with Government of Nepal, Ministry of Finance and Ministry of Commerce and Industry, FNCCI, CNI, NCC and MAN proudly presents 
Nepal CEO Summit and Award – 2018,
 going to be held on 
14th March, 2018
 at Hotel Soaltee, Kathmandu – Nepal.
Sparrow SMS is glad to be the Official SMS Partner for the CEO Summit and Award – 2018. 
The event is an acknowledgement and appreciation of the leaders who introduce innovation and lead the change. CEOs, GMs, MDs, Chairpersons and personalities with executive roles in the businesses are the nominees for the awards. 
The following are the names of nominee with their CEO Code for the Category
"Popular CEO of the Year – Public Choice"
Name of Nominee, Designation &
Company Name

CEO CODE

Ajay Sumargi, 

Chairman

Muktishree Group of Companies

Binod Chaudhary, 

Chairman

Nepal Electricity Authority

Min Bahadur Gurung, 

Chairman

10

Padma Jyoti, Chairman




Jyoti Group of Companies

Pradeep Kumar Shrestha, 

MD

Rajendra Khetan, 

Chairman

Shekhar Golcha, 

Executive director

Sugat Ratna Kanshakar, 

CEO
N
epal CEO Summit and Award-2018 is a Hi-Level event of business leaders and professionals, a single largest event in Nepal for businesspersons and professionals of South Asia to acknowledge, honor and celebrate the achievement and contribution they have made for the nation and industries. 
The aim of the event is to provide a platform to the South Asia's top Business Visionaries, Industrialists, Business Icons, CEOs, Business Managers and Investors to discourse, evaluate and reflect on bringing up all national, regional and global business scenarios, achievements and dream together for a nobler future. 
This historic international business event is 1st edition of its series.
The Summit is carefully designed to support business executives on their ongoing journey of business excellence as renowned business leaders, industry giants and entrepreneurs.
We wish the Organizers all the best for the event and all the nominees too! 
To vote for your favorite CEO, Type CEO <space> CEO Code and SMS it to 33001