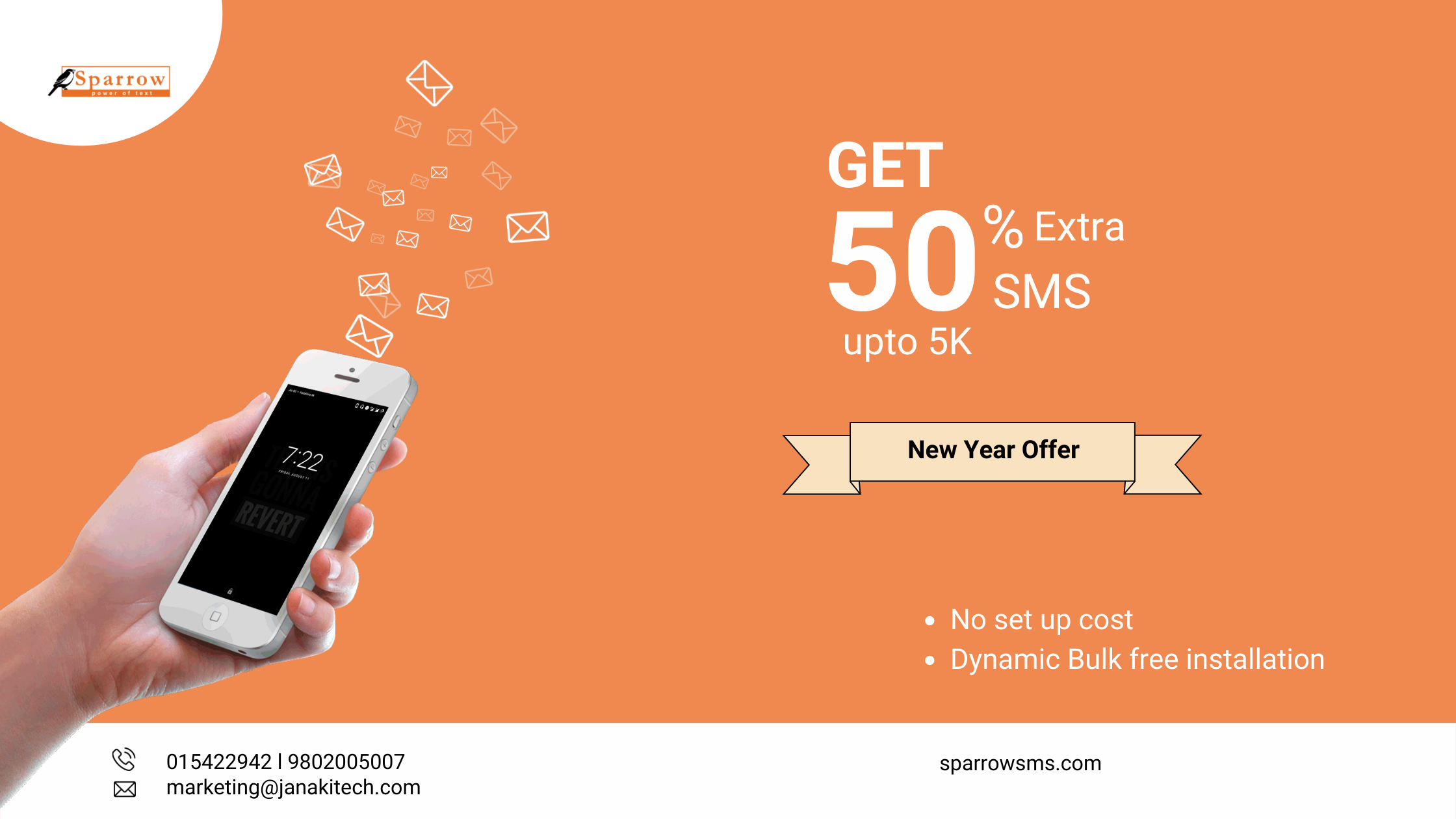 Have you considered sending New Year 2022 wishes to your customers through Bulk SMS?
Leave your troubles to Sparrow SMS; we are here to assist you in delivering your messages to those who are important to you. Sparrow SMS also has a New Year's deal for individuals who wish to send bulk SMS this New Year.
Don't miss out on this year's New Year Bulk SMS OFFER.
Receive 50% Extra SMS credit up to 5000 credits.
Why use Sparrow Bulk SMS when there are so many other options for sending messages? Sending SMS demands click-on messages; otherwise, the wishes you convey are worthless and let me tell you, SMS goes beyond clouds, i.e. your recipients don't need internet to receive wishes. 
The interesting aspect here is that the 160 characters of personal impression information you sent are delivered in a matter of seconds. Notifications on our phones also increase dopamine, a happy hormone, which naturally leads you to click through the message. Your SMS wishes will not be neglected, trust me. It should come as no surprise that SMS open rates are six times greater than email open rates.
Sparrow SMS includes a feature called 'Dynamic SMS,' which allows you to send personalized Happy New Year messages to a large group of people at once. Get your own Sparrow account from Sparrow SMS and send personalized bulk SMS to your most important customers to make them feel special.
Along with the user manual, you will be instructed on how to send bulk SMS.
Please hurry! Now is the time to take advantage of the Sparrow SMS New Year Offer. Send Bulk SMS. 
For details, contact us at 01-5422942/9802005007 Or, email us at marketing@janakitech.com

And, please visit : sparrowsms.com