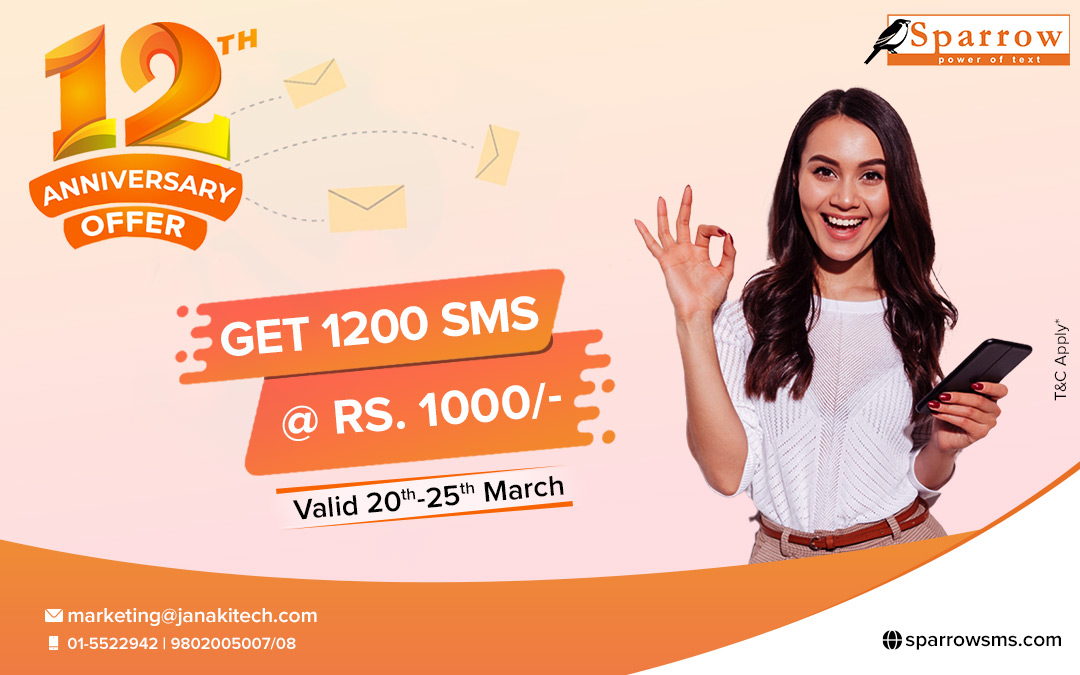 We are delighted to announce that Sparrow SMS,  Nepal's Leading VAS service Provider, has completed 12 years and is about to embark on its 13th. During those eleven years, what the team started from scratch has grown into a thriving business with clients all over Nepal. We have over 5000 clients and have delivered over 50 million messages in Nepal. We anticipate that the strong growth will continue.
We thank all of our customers, agents, merchants, and educational institutions for working with us and assisting us in maintaining our position as Nepal's leading VAS service provider. We are very proud of how we have collaborated with our clients to foster trust and transparency.
SMS Marketing is on the rise in Nepal. It is the most cost-effective and successful marketing strategy. Sending an appropriate SMS to a client can help increase the sales rate of any business's products and services.
Sparrow SMS is expanding, and we want to ensure that our customers and clients can benefit from it in the future by communicating with their customers. As a result, in honor of our twelfth anniversary, we're sharing special offers with no obligation to our valued customers.
Sparrow Anniversary Offers
1. Get 1200 SMS @ Rs. 1000
This offer is available for new customers. You can get 1200 SMS just at Rs. 1000 only. It is VAT exclusive.
2. 12% Extra SMS for FREE
On the payment of SMS credits via Khalti Bazaar, you get 12% extra SMS for free. Remember to use Sparrow SMS promo code 'SPARROW12'
Sparrow SMS would like to thank all of our customers and partners again for their continued support over the years.
The offer is valid till 25th March 2022. 
Be wise and take advantage of the offers from Sparrow SMS. Wanna try free bulk sms? Get a demo account.
For more updates on Sparrow SMS 12th Anniversary offer, do follow us on our official Facebook Page, Instagram, and Linkedin.