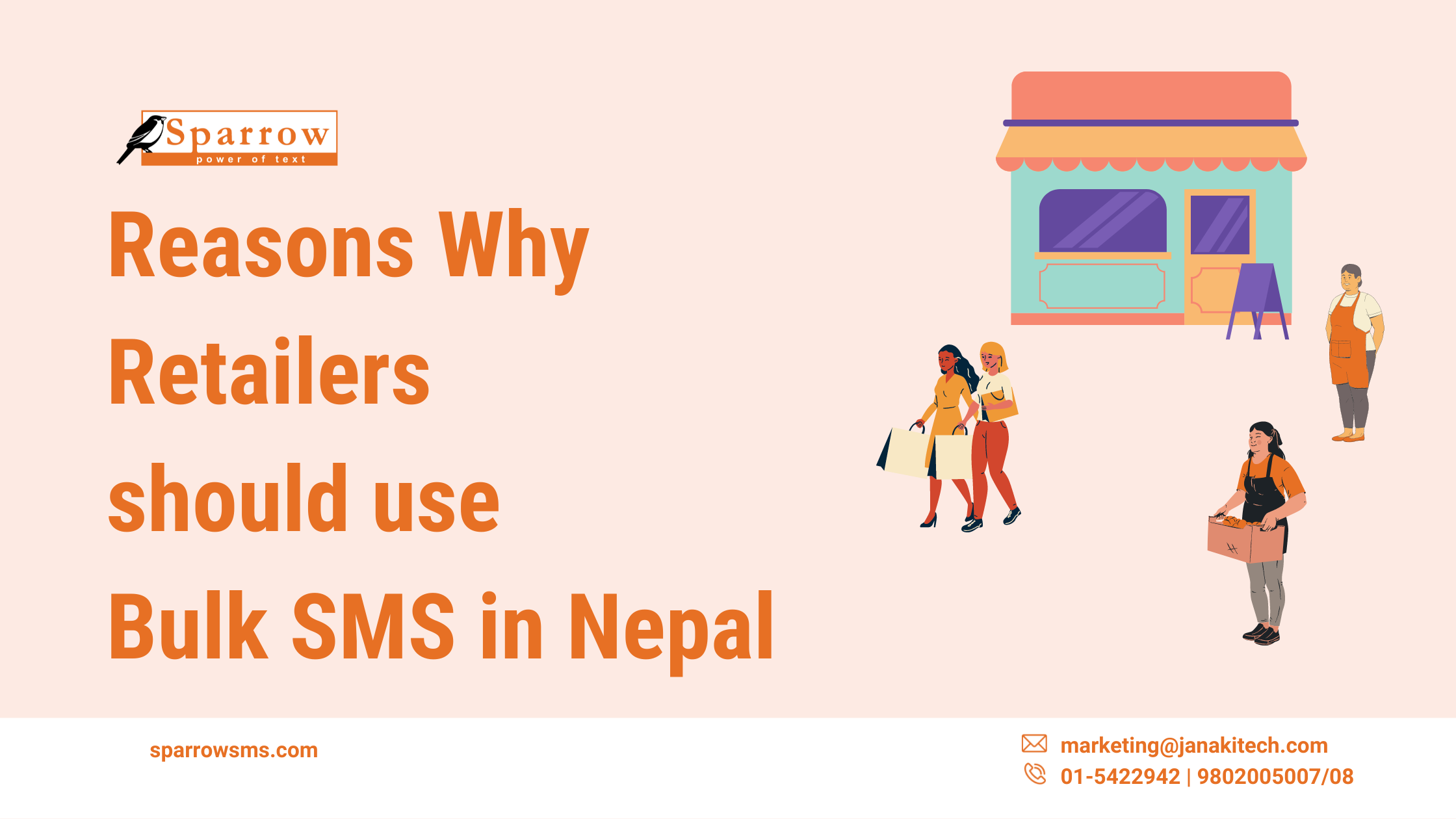 Bulk SMS is an easy way to launch a marketing campaign. There is an increase in rising bulk sms use by Retailers & Wholesalers in Nepal. 
To begin with, Bulk SMS is popularised by the name mass messaging. It acts as a relay between wireless application service providers and mobile network operators. The SMS gateways allow direct connection to a short message service center and then to the customer or client's phone number. Hence, customers can receive your message on their mobile phone number anywhere in the world. 
Unlike email, the KPI of SMS is found to be of high open rate and reliability. Therefore, the Retail & Wholesale industry can have huge benefits from Bulk SMS service in Nepal. 
Why do Retailers use Bulk SMS services in Nepal? 
SMS marketing in Nepal is by far the most used marketing channel for businesses to develop better customer relationships. 
At present, people own a mobile phone than a house. We find mobile phones have become the most important device to have. And, implementing SMS marketing for your retail business can help you boost your sales and meet your target audience. Each message you want to deliver can be personalized based on your industry segment and customer behavior.
Retailers use SMS alerts in Nepal to share VIP offers, birthday messages, Discount promo codes, Event pieces of information, New product drops, and many more. 
Benefits of SMS Marketing in Nepal for retailers 
1. Bulk SMS in Nepal has high-Performance metrics over Email Marketing
One of the reasons why business people choose SMS marketing over other marketing channels is Bulk SMS has high open rates. 
Many solo entrepreneurs in Nepal prefer email to communicate with their customers or clients on a professional level. However, occasionally, emails sent are marked as spam, which fails to get the attention of the audience you're trying to reach. Also, the lack of internet in remote areas contributes to a poor average click-through rate (CTR) in Email Marketing in Nepal. 
Let me be honest with you, it's not worth investing time and financial resources into marketing if it has no proper ROI. And, SMS marketing is something that will give you an opportunity to track your performance and learn to improve your brand reach. You get increased sales in business by increasing your customer engagement.
2. Help to increase sales 
Reach your target market and increase customer loyalty. You can boost your sales by meeting your customer, they spend most of their time on their phones. 
Research study states that on an average of seven times SMS engagement rates are higher than email marketing that is used normally by the merchants.  
3. Easy marketing campaign creation
Bulk SMS makes it simple to put together a marketing campaign. Unlike email campaigns, SMS campaigns don't require any creative assets. They include communications for clients that are brief and to-the-point. 
Here in Sparrow SMS, we offer an SMS template where you can schedule texts and send sms in bulk. Based on previous campaign outcomes, you can test message length, format, and analysis. 
4. Insights to create a personalized message 
Once you launch your first SMS marketing campaign, you get data-driven insights to help your business develop a marketing strategy that helps to build a sustainable competitive advantage. 
The data helps you in segmenting your customer market based on your client's interests and behavior. And, then you can work on sending customized sms in mass.   
5. Useful for expanding omnichannel commerce strategy 
You can add Bulk SMS in your omnichannel selling strategy to deliver constant and customer convenient sms in bulk. 
There is no doubt that emails and phone calls are still essential for customer interactions in Nepal. However, SMS can add value to enhance your customer experience. SMS marketing is not as saturated as email marketing and other social media marketing. 
Related Content
Why Bulk SMS is a Powerful Tool in Marketing?
Why Did Your Bulk SMS Marketing Campaign Failed? Understand to Avoid
Free Bulk SMS for Retailer 
If you're interested in trying Sparrow Bulk SMS for retail but aren't sure where to start, give our business development team a call to learn more about our SMS pricing options. With a Sparrow demo account, you may send free bulk SMS to test our industry-leading technology and see how Texting works in your targeted market.