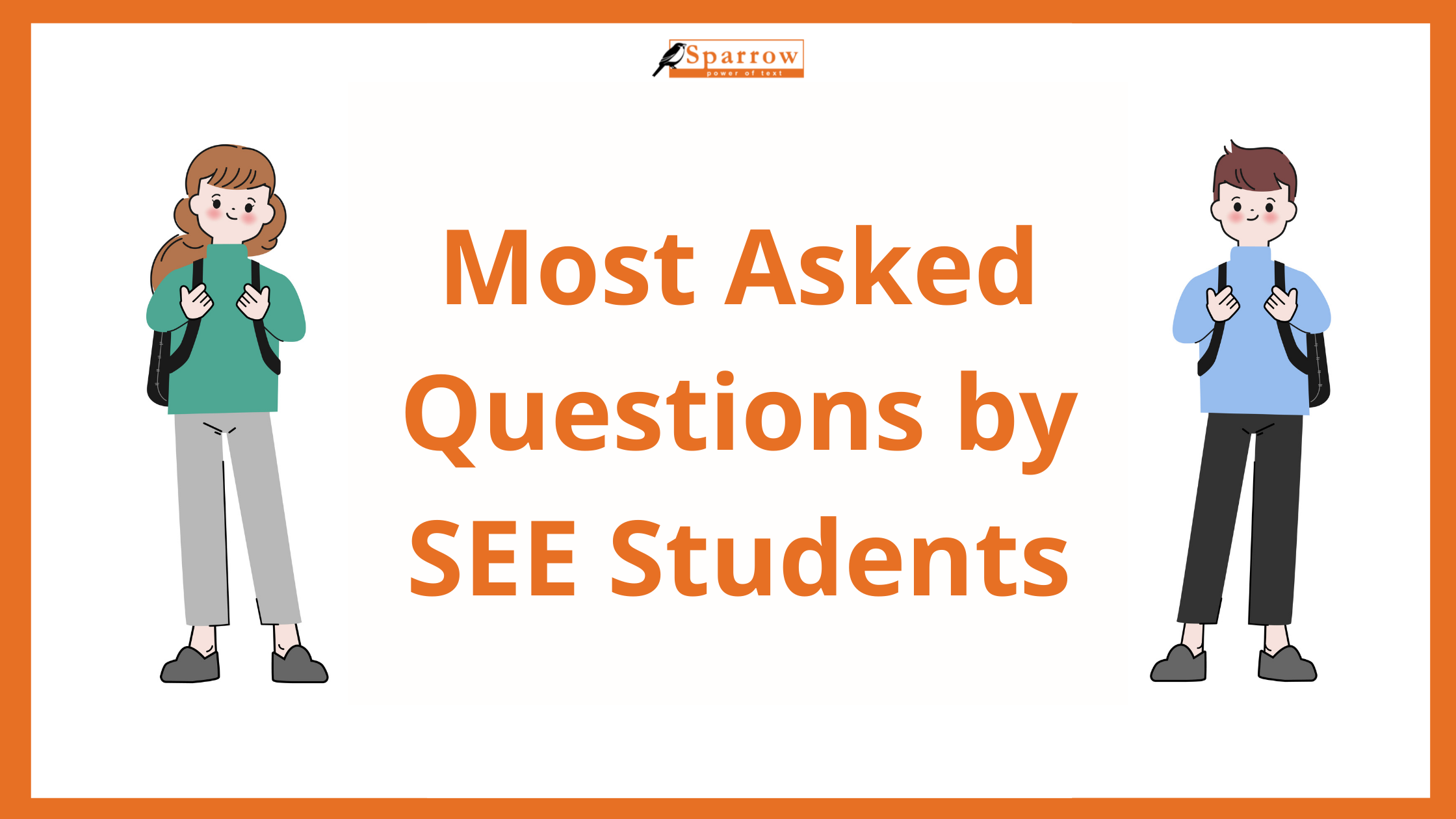 SEE results are coming soon. NEB has said that the results will be published within the last week of Shrawan or 1st week of Ashadh. There is always some confusion among SEE students about their results and how to get results.
Here are some of the frequently asked questions by SEE students and their answers:
How to get SEE result 2077/2078 via SMS?
To view your SEE(SLC) result 2077/2078 via SMS, simply follow the following steps:
Go to your mobile messages box

Type SEE symbol number.

Send to 35001
How would my result appear after sending an SMS?
After the result is officially announced by OCE, you will receive the SEE Result 2077 2078 with a GPA grade. A sample of your SEE result is shown below. "Congratulations your symbol number is 0000000A. You have passed. GPA: XXX"
I received an SMS saying -There is no official notice about the SEE result now. For updates, please stay connected with us on our Facebook Page. why?
Only after the results are officially reported by OCE does Sparrow SMS provide the SEE result 2077 2078. You will be able to check SEE Results with SMS after your results are officially revealed. Type SEE Symbol-number and send it to 35001 only after the results are out by OCE.
Can I view the exam results of my friends?
Yes, after OCE announces the results, we send out the SEE results through SMS. So, to acquire the results of anyone who took SEE test 2077, type SEE Symbol-number and send it to 35001, but only when the results are released by OCE.
What are the applicable charges to get results?
Each SMS would cost you Rs 5 + additional taxes only.
Why do you charge Rs 5 + taxes to view SEE Result? Are there any other hidden charges for SMS?
SEE Result Nepal's regular SMS provider, Sparrow SMS, has always believed in providing high-quality services that are simple to use and trouble-free. We've been sending SEE Results to your phones as soon as they're available from OCE (generally, in less than 5 seconds). So, in order to build such a speedy service, we set aside specific resources for it and compensated other stakeholders. We are all aware that everything has a price tag! Aside from that, we do not receive an amount of Rs 5 as compensation. The following is how each Rs. 5 is divided. 50% – Is taken by Telecom Operators ( Like Nepal Telecom and Ncell ) 6% – Is RTDF ( Rural Telecom Development Tax) 1.5% – Is TDS After full data verification, we must also pay a reasonable price for each SMS to OCE. We also have a Rs 1 advertisement cost for marketing the SEE Nepal format across multiple channels. And the significant costs on our end are still to be determined.
Servers with a high configuration must be maintained for a long time at expensive data centres.

Telecom Connection

 Highly Skilled Telecom/VAS Engineer

Content and Digital Marketers and other employees cost.
Only after all of these costs have been distributed do we receive the remaining funds. We have always worked hard to provide you with a safe and affordable means of checking SEE Result 2077/2078. Previously, many students had to go through numerous hardships in order to read their SLC Results Nepal, such as making phone calls, purchasing expensive newspapers in restricted quantities, visiting cyber cafes, and dealing with heavy traffic on websites, among other things. Sparrow SMS, on the other hand, has put in all of its effort and knowledge to provide a legitimate SMS service to disseminate SEE Result Nepal by SMS when the results are released by OCE at a trustworthy price of Rs 5 + additional taxes only. Furthermore, there are no SMS-related hidden costs. Each SMS for seeing SEE Result 2077/78 will cost you Rs 5 plus any applicable taxes.
Also read:
All the best for your results and future ahead.