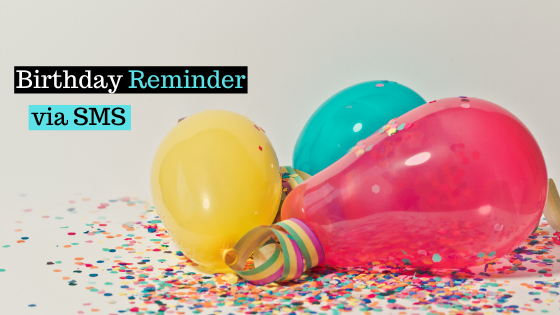 Birthdays come once a year and some of you probably do not like to celebrate it but it always feels good when someone remembers your birthday and surprises you with an unexpected wish. 
In day to day businesses as well, customers feel happy when their birthdates are remembered. After all, the main motive of any business is to keep their customers happy, and that can be done by providing value to them by making them feel special. And of course, happy customers mean loyal customers. 
Sparrow SMS provides bulk SMS API Gateway that can help to maintain a good customer relationship by providing this amazing feature to schedule and automate the messages to send them on the intended dates. Along with the birth dates, one can also schedule other important dates like wedding anniversary, child's birthday, annual subscription and so on.
 Having stated all these things, it is now evident that this cannot only be used for marketing purposes but also an operating purpose. For example, car dealers can schedule the date of vehicle servicing for their customers so that their customers do not miss the servicing date. This can help the car dealers to add value to their customers and show care for them.
If you also want to make your customers feel cared for and add more value to your brand and product, start sending SMS to your customers.
For details, you can call/WhatsApp at 9802005007/08 or email us at marketing@janakitech.com.