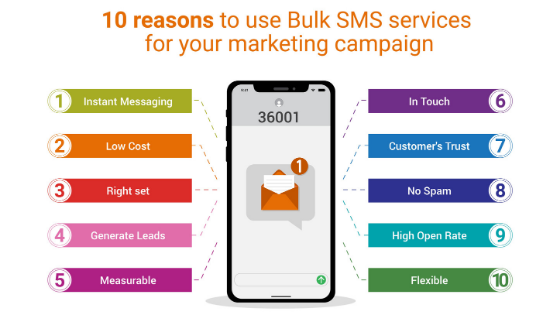 You have newly set up your business or you are among the big names of the market, sooner or later, you will need a platform for marketing your products and services. In this case, Bulk SMS Marketing stands out to be the best option to target a vast and diverse market in a very short duration of time.
So, What is Bulk SMS?
Bulk SMS refers to sending an SMS to a large number of recipients at once. It is a substantially inexpensive method of mass communication than other advertising means. Bulk SMS works wonders for business owners, community groups, marketing agencies or corporate houses to communicate with a large group of audiences. The firm can promote their brand or products with the use of 5 digit shortcodes and send a text message by typing the required keyword and sub keyword. Bulk SMS allows you to track your delivery reports integrating a link that further helps to measure the amount of SMS lead and its impact on your sales.
Why invest in Bulk SMS marketing?
According to statistics, 98% of respondents say they open every SMS text message they receive and other statistics show that an SMS is opened within five minutes of its delivery. It means using bulk SMS service for your marketing campaign is a great choice.
Below we have listed 10 benefits of Bulk SMS marketing for your business.
1. Instant Messaging
Whether you want to write a thank you message, a reminder message or promotional SMS, bulk SMS service provider will help you send messages instantly. You will reach your target group almost immediately as it is found that 98% of messages always get read within 5 minutes of delivery.
This gives you one of the greatest benefits of SMS Marketing to swift and getting your message across to your customers in an effortless way. Although there are other incredibly fast marketing strategies, nothing compares to the quickness of SMS.
2. Low Cost, Better Returns
The advertising on Television, newspapers or other outdoor advertising methods can prove to be expensive. But, Bulk SMS marketing can be the best choice for all businesses.
You can meet your marketing targets with low setup and running cost and still see a healthily return on Investment. You can reach thousands of targeted people effectively and quickly with a small cost in a matter of seconds.
3. The right set of target Audience
Bulk SMS marketing ensures that your target audience receives the desired marketing messages quickly in just seconds. You should set the contact lists that are already connected with you or have previously agreed to receive marketing messages from you.
4. Generate Leads
Have something new to offer to your customers?
Just use Bulk SMS services and forget the rest. Bulk SMS marketing is an ideal approach to generate leads as it offers its clients an amazing way to promote new products, services, and offers.
5. Measurable:
It is easier to measure the success of the campaign because a 'call to action' is always added at the end of a mobile marketing message. That might be purchasing a product, informing a product or subscribing to your SMS campaign. All of these conveys value to your business branding.
6. Keep in Touch With Your Customers
Your customers love to know what special offer you are offering to them. And a bulk SMS service will do just that for you, by sending offers to keep your customer interested in your campaigns or services.
SMS marketing doesn't just give you the option to engage with your customers more. It can also give your customers a way to engage with you and also increases your brand value and thus increases your sales.
7. Customer's Trust
All the small and big businesses use bulk SMS to get their customers closer to their firm.
Bulk SMS can be a great option to send wishes and other goodwill messages to maintain the relationship and trust among the target audience. When your clients feel you notice him as an individual, he is more likely to stick with you.
8. No Spam
This is the best feature about the bulk SMS marketing. There are no spam boxes.
Sending the newsletter to your customers can increase the chances of your mail to drive in the spam folder that he never opens it or even delete it. But such a thing won't happen in SMS marketing, as there are no spam boxes, it means you always reach out to your audience.
9. High Open Rate
With the popularity of mobile phones and texting, SMS marketing doesn't go ignored. With 98% of opening rate, almost every recipient open SMS within 3 to 5 minutes of delivery.
If you want to find a way to reach your customers more consistently, give bulk SMS a try. This can be a great benefit for you as it is almost guaranteed that your message will be read.
10. Flexible and Customizable
One of the biggest benefits of SMS marketing is that it is versatile and it is customizable as per the need of the marketing strategy. You can select various groups of the customer with dynamic message content to fit with different requirements to help promote your business.
So, there they are, the top 10 reasons to use bulk SMS marketing for your marketing campaign. Ready to get started with your own campaign? Sign Up for a demo account of Sparrow SMS today!
Use the comment box below to share your experience with us. Questions and inquiries concerning this are also welcomed.