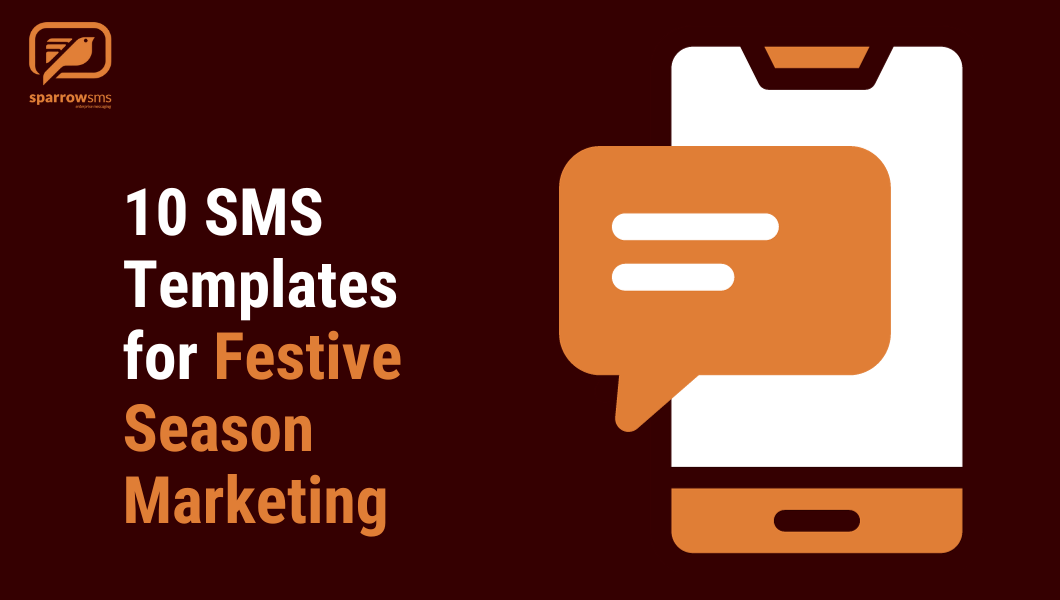 By leveraging the potential of SMS marketing during the festive season, businesses can effectively connect with their target audience, drive sales, and enhance brand visibility, thereby creating a memorable and engaging festive experience for their customers. Various sectors utilize SMS for festive season marketing to engage with customers and boost sales.
Here are some SMS templates for various sectors that commonly use SMS for festive season promotions:
1. Retail: Retail businesses often send festive season SMS messages to promote special discounts, sales, and limited-time offers on a wide range of products.
"Make your holidays bright with our exclusive festive deals! From trendy apparel to must-have accessories, we have it all. Rush to [Your Store Name] today and enjoy up to [ ]% off. Happy Dashain!"
"Treat yourself this season! Don't miss out on our festive flash sale, happening now! Get up to [ ]% off on selected items. Visit us at [Your Store Name] or shop online at [Your Website] before stocks run out! Happy shopping!"
2. Hospitality: Hotels, resorts, and restaurants use SMS to inform customers about special festive season packages, holiday discounts, and exclusive event invitations.
"Make your holidays unforgettable! Join us at [Your Restaurant Name] for a special festive feast. Indulge in our delectable seasonal menu and enjoy the festivities with your loved ones. Book your table now!"
"Season's Greetings from [Your Hotel/Resort Name]! Experience the joy of the holidays with our exclusive festive packages. Book now and enjoy luxurious accommodations, festive activities, and much more. Happy Holidays!"
3. E-commerce: Online retailers utilize SMS marketing to notify customers about festive season deals, new product launches, and time-limited promotions to encourage online shopping.
"Get into the festive spirit with us! Enjoy exclusive discounts of up to [ ]% on all your favorite products. Visit our website now and make this season merrier with our special holiday deals. Happy shopping!"
"Celebrate the holidays with amazing deals from [Your E-commerce Store Name]! From unique gifts to seasonal essentials, we have it all. Avail of up to [ ]% discount on our entire festive collection. Happy Holidays and happy shopping!"
4. Travel and Tourism: Travel agencies, airlines, and tour operators send SMS alerts for special holiday packages, travel deals, and discounts on flight tickets and vacation bookings.
"Celebrate the holidays in style! Book your beachfront getaway with [Your Travel Agency Name] and relax in paradise. Special festive offers are waiting for you. Pack your bags and escape this season!"
"Set sail this holiday season! Cruise into the festivities with our special cruise packages. Embark on an unforgettable journey with exclusive discounts up to [ ]%. Book now and make memories at sea!"
5. Food and Beverage: Restaurants, cafes, and food delivery services use SMS to inform customers about festive season menus, special dishes, and attractive discounts during the holiday period.
"Spice up your holidays with our festive offerings! Visit [Your Winery or Brewery Name] for exclusive seasonal drinks. Enjoy a complimentary tasting and take home your favorite bottles at a special price. Cheers to the holidays!"
"Bring the festivity home with our catering! Order our special festive platters and desserts for your holiday gatherings. Let us handle the cooking while you enjoy the celebration. Order now and savor the season!"
6. Automobile: Car dealerships often send SMS to inform customers about year-end offers, festive season discounts, and promotions on new car models and services.
"Drive into the holidays with a new set of wheels! Explore our festive season deals with special discounts of up to [ ]% on selected models. Visit us today and make your dream car a reality!"
"Make this season memorable with a perfect ride! Enjoy exclusive offers and festive discounts on our latest models. Visit our showroom now and drive home with joy and
7. Health and Wellness: Fitness centers, spas, and wellness clinics use SMS to promote holiday-themed wellness packages, discounted membership offers, and festive season self-care tips.
"Give the gift of wellness this season! Enjoy [ ]% off on our holiday wellness packages, including spa treatments, yoga classes, and more. Treat yourself or your loved ones to a rejuvenating experience!"
"Take care of yourself this holiday season! Explore our range of natural supplements and wellness products, now available at discounted prices. Invest in your well-being and celebrate the season with vitality!"
8. Financial Services: Banks and financial institutions send SMS to promote special interest rates, holiday loan offers, credit card promotions, and other financial services tailored for the festive season.
"Wishing you financial joy this season! Take advantage of our special festive offer on personal loans with low-interest rates. Secure your finances and make your dreams come true. Contact us today!"
"Ring in the season with financial confidence! Explore our range of investment options and retirement plans designed to secure your financial goals. Make the most of the festive season by planning ahead!"
9. Education: Educational institutions may send festive season greetings, holiday event invitations, and reminders for admissions and upcoming educational programs through SMS.
"Plan for success in the New Year! Explore our career counseling and educational services to set your goals for 2023. Make the most of the holiday season by planning your educational journey with [Your Institute Name]!"
"Start the new year with a commitment to learning! Explore [Your Institute Name]'s diverse range of online courses and certifications with special festive discounts. Expand your knowledge and skills from the comfort of your home!"
10. Fashion and Apparel: Clothing brands and fashion retailers use SMS to notify customers about festive season clothing collections, exclusive fashion events, and special discounts on apparel and accessories.
"Dress to impress this holiday season! Discover our glamorous party wear and festive ensembles, now available at special prices. Make a statement at every event with our trendy and elegant fashion picks!"
"Embrace the season with style! Explore our cozy winter collection and enjoy special festive offers on warm and fashionable apparel. Stay comfortable and chic throughout the holidays!"
You can customize these templates by inserting the specific discount percentage, your fashion brand's name, and any other important details and products you offer. These templates can serve as a starting point for your festive season SMS marketing campaign, helping you engage with your customers and boost sales during this special time of the year.
For SMS Marketing services Contact us at 9802005007 or marketing@janakitech.com.
For Demo, Click here.