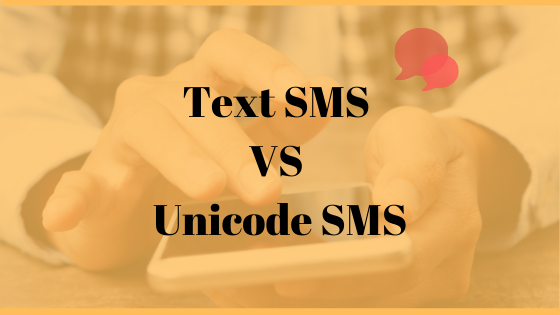 Plain Text & Unicode SMS
Everyone is familiar with the Bulk SMS and its benefits for business organizations. While sending Bulk SMS to your customers, you should decide the text content or message. The text content can be Normal (Non-Unicode) SMS or Unicode SMS depending on the purpose and nature of SMS. It creates differences in the SMS length of the SMS message. The details to understand the universal law for the SMS length and character calculations are explained here:
Plain Text (Non-Unicode SMS)
In universal standards, the English language is set as standard text content which has a limit of 160 characters for a single SMS. When you send an SMS message over 160 characters the message will be split. As per the character count in the SMS, it will be deducted from your account.
Text SMS Character Count
1 SMS Credit = 160 Character

2 SMS Credit = 306 Character (Which means 153*2 = 306)

3 SMS Credit = 459 Character (Which means 153*3= 459)
And this list goes on up to 918 Characters (6 Length) as per Nepal Telecom operator rules. For higher delivery of SMS, it's preferable to send up to 700 characters only.
Unicode SMS
Unicode SMS is any text message sent in any other languages except English. Unlike normal text message, Unicode SMS only limits 70 characters in a single message. If the SMS is over 70 characters, the message is segmented into 67 character segments.
For example, Nepali, Newari, Bhojpuri, Hindi, etc.
Unicode SMS Character Count
1 SMS Credit = 70 Character

2 SMS Credit = 134 Character (67*2 = 134)
Note: If one character in SMS is Unicode, whole SMS becomes Unicode.
Conclusion
At Sparrow SMS, we provide reliable Bulk SMS Services and support to make your SMS campaign successful. You can try our free demo account with 10 free credits, Signup Here!
Contact us today for any further queries.
Website: www.sparrowsms.com