Top features of Good Bulk SMS Messaging
By Sweta Maharjan
Post
0 Comments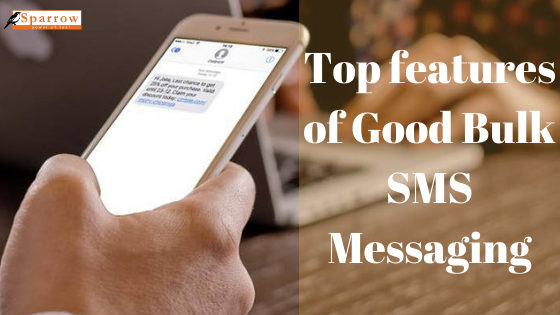 When you have marketing campaigns in mind, what do you think would be the right way to go?
Whether you are a small enterprise with constrained resources or a big company with the tight marketing budget, try using bulk SMS to catapult your brand into the market with efficacy.
Bulk messaging offers you clear-cut benefits to your marketing efforts so that you can get tangible returns on investment.
Here are some of the top features of Bulk SMS messaging you will love to know about:
1. Contact Manager
You may have millions of contact numbers. All of them may belong to each group such as students of class 11 or students of bachelors. Now, sending the different message to each group has made easy with the contact manager.
It allows you to upload all your contact under various groups as per your requirements. You can add, edit, delete as well as export your contacts. This helps you to systemize and manage all your contacts and send them notification just by a single click.
2. Campaign Manager
It is the most interactive feature of Sparrow SMS. It allows you to create any type of campaign for your client and launch it in real time in just 2 minutes. You can add choices, keywords, and sub-keywords within minutes and set customized reply messages and timed responses. It gives you maximum flexibility to make a variety of campaigns and launch them.
3. Robust API
As the API is REST based, which can be implemented from any programming language. It also supports both GET/POST HTTP requests in our API.
Our Robust & Powerful SMS API enables you to deploy messaging platform into your existing infrastructure or any 3rd party Software or Applications. It is compatible with all Software Platforms (PHP, ASP, .NET, JAVA, C, C++, and VB).
Apart from API Connectivity, we can also Provide SMPP Connectivity, FTP Upload, Database Drop or any Custom Made Connectivity Type to meet your requirements.
4. Unicode SMS
Receiving a message in the local language can be much effective than in standard language.
Unicode option helps to send SMS in your Local Languages. So you can easily send your message in your local language with the help of Unicode converter tool and attain the personal touch with your customers.
The cons of this feature are that the SMS length is only 70 character where standard SMS is 160.
5. Sender ID
Sender ID means the unique identity that client can request as per his business name or nickname that would appear instead of a shortcode.
In Nepal, Sender ID is only issued by Ncell, Smart Cell besides NTC. But there is the condition to apply for sender id in NTC. This is: it needs to be the larger organization with large revenue and operation.
Send SMS with your own Sender ID. Brand SMS with your own Sender ID.
6. Delivery Reports
With the feature of a delivery report, you can get 100% transparent and genuine reports as to how we are getting from our corresponding Telecom Operators. It remarks as your message was failed, queued, dispatch delivered or accepted.
Sparrow SMS refund the amount of credit for queued and dispatch. So you can ensure that your message status with live delivery reports of your SMS campaigns. There's nothing to hide.
7. Reseller Option
Start your own Bulk SMS Messaging business. Become our Reseller.
You can get reseller API or reseller bulk. But the reseller client should make 10 clients per year and 25000 per purchase.
We make sure to disclose the information with the proper agreement on prices, procedures, and confidentiality.
8. Message Schedule
The scheduling feature allows you to schedule messages to any date and Time.
You can set a timed message for individuals or a selected group of people.
If you do not want to send your SMS immediately you can schedule SMS for future delivery. This module comes with a bulk SMS module.
9. Free Demo Account
You can try our service for free!
Yes, that's true!
No hidden fees, no charges, no commitments. Just a complimentary trial so you can see how good our service is first hand.
You can try our demo account for FREE! Sign up now and get 10 message credits free.
10. Multi-User Account
With our multi-user feature, you can let your coworkers or employees use your credits to send messages giving them the authority of owner, admin or staff.
This is done by making them a sub-user of your account. To make someone a sub-user simply ask them to join our service and give you the username that they selected when they signed up.
Each user has their own role and credibility. All users are not allowed to use the overall features. The owner can choose the option to whom he wants to give authority.
11. Remove Duplicate Numbers
While you make the list of your SMS subscribers, there is the high chance you enter the contact number twice or even many times.
Our bulk SMS messaging service allows you the option to remove the duplicate numbers from your campaign so that you won't send the message twice to the same contact number.
12. SMS Templates
Now, there's no need to type the same SMS message over and over again. If you regularly send the same SMS message you can use our template feature.
Set up an unlimited number of SMS templates and you are ready to go!
13. Connection with Network Operators
Our SMS gateway offers you wider coverage than any other SMS provider delivering messages to all the 5 network operators i.e. Nepal Telecom (NTC), Ncell, Smart Cell, UTL, and CDMA.
14. Customized Module and Features
Sparrow SMS provides an option for additional modules and features on request. It can be integrated with your existing business system to meet your requirements.
When you hire Sparrow SMS, one of the best bulk SMS messaging service providers, it will always factor these points while designing an SMS marketing strategy. Bulk SMS messaging through Sparrow SMS is a great way to exploit the potential of your local market. It will aid boost public relations and generate leads in the long run.