Reasons to Use Bulk SMS as part of Election Marketing Strategy
By Manoj Tamang
Post
0 Comments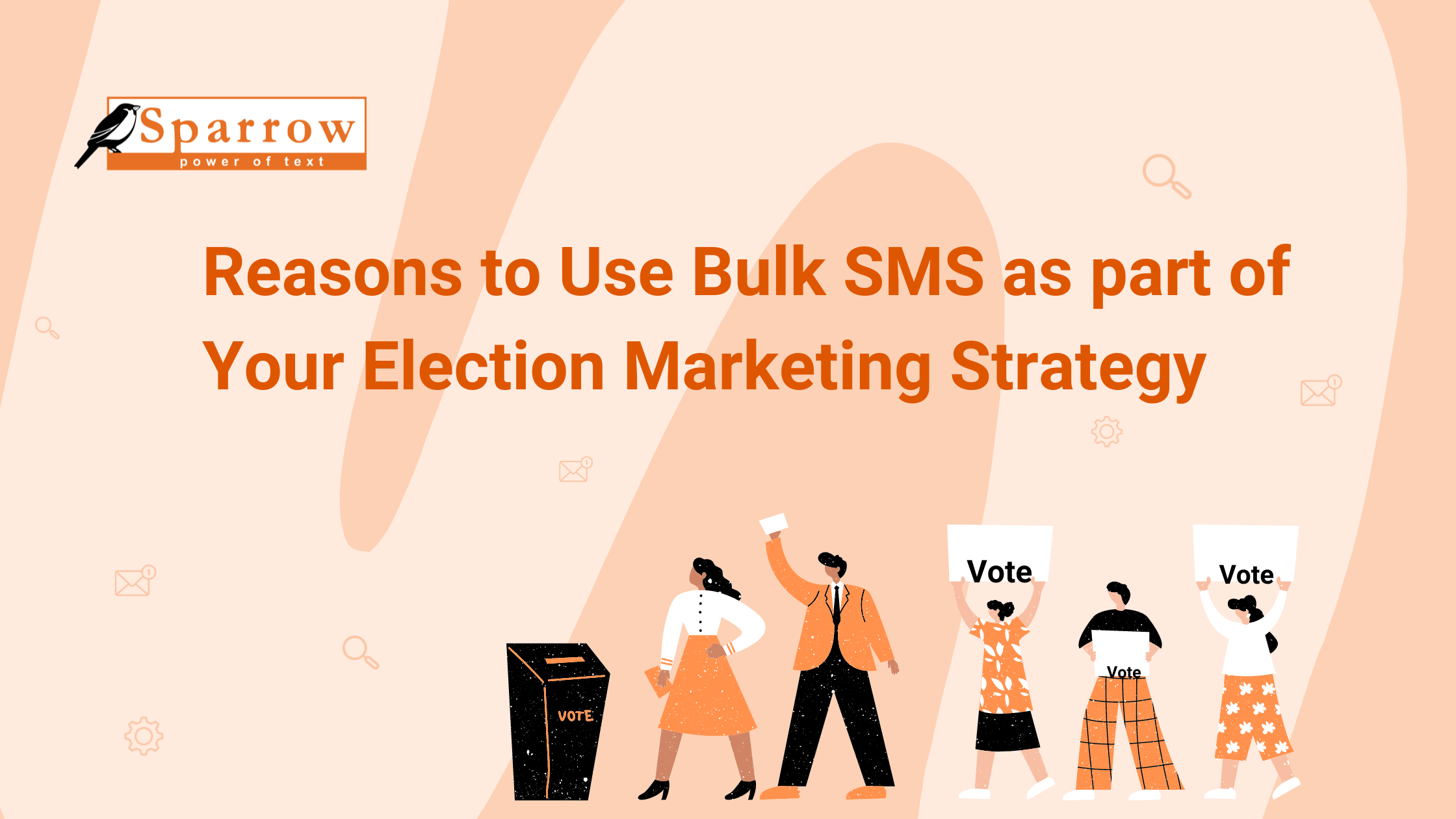 If a political party wants to be successful, it has to work on its election campaigns. During elections, political parties have very limited time to connect a huge mass of people at a low cost. The use of Bulk SMS Campaign can be the best marketing tool to reach people instantly.
There are ample reasons to choose bulk sms for election campaigns. Firstly, we live in a mobile-first world, and text messaging services can help to reach voters in real-time. Secondly, you don't need technical knowledge to send sms in mass. Thirdly, it's cheap and has the highest open rate. Let me dive you, people, into the benefits of campaign messages for election. 
Benefits of using Bulk SMS Marketing for Elections 
1. Low Advertisement Cost 
Bulk SMS has been found to be far more cost-effective than grassroots campaigning and meetings. Election campaigns are relatively expensive; therefore, political parties should search for cost-effective ways to keep expenses to a minimum.
2. Personalized Marketing
Make your campaign messages for election more personalized to reach a larger audience. Personalize your message and express your emotions to people in order to connect with them more efficiently and effectively. It allows you to establish a direct line of communication with voters; instead of traditional media, they are hearing your thoughts on the issues that are most important to them, and on a personal level. Believe it or not, personalized messages help you interact and connect with people more effectively.
3. Updates & Alerts
To share recent campaign information and alerts to thousands of people at once, you can use Bulk SMS services for Election. It can also be a great way to engage local supporters and youth in volunteer work. Send out event reminders for meetings, media appearances, and so on. In a nutshell, a bulk sms service gateway can assist you in increasing your visibility among the public.
4. High Audience Reach
Text Messaging Service for Political Campaigns effectively conveys your message. How? Without a doubt, everyone nowadays has a mobile phone, making it easier to convey your message to a large group of people at once. With a high open-rate of over 98 percent, bulk SMS ensures that your message reaches the greatest number of people in the shortest span of time.
Related Content 
Why Bulk SMS is important to boost your business in 2022?
How you can send SMS to multiple numbers with Sparrow SMS
For more information about Sparrow SMS, follow us on Facebook, Instagram, and Linkedin. You can also mail us at marketing@janakitech.com.