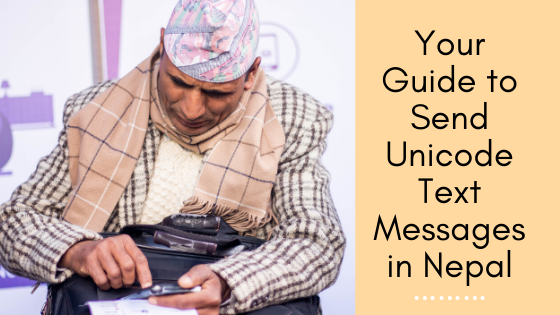 With Bulk SMS, you can send Unicode text messages, so, you do not have to send your message in English only. Sparrow SMS enables you to send SMS in the language of your choice.
Usually, there are a lot many scenarios in our everyday life where the message is delivered but the purpose of it still remains unsolved. This relates in our country like Nepal where 80% of people are compatible with the Nepali language.
Let's have a look at why businesses need to send Unicode SMS,
Are you sure that all the SMS which you are sending in English are targeting the right audience? Are you making the optimum utilization of the widespread mode of communication i.e. SMS?
Yes, you are thinking right way! Unicode text messages can maximize the response rate of your customers.
Let us see the picture of Nepal as the reference.
Nepal is the land of cultural and linguistic diversity with over 123 regional languages. Sending SMS in regional language does not only increase the number of readers but acts as a bridge to connect with the people of remote locations, who might not be fluent in English or Nepali.
So, if you are looking forward to widening the horizons of your communication consider to use regional languages and don't tend to miss out a larger chunk of the potential target audience. Make sure you use this widespread medium of communication in a most effective manner to get the best results.
How can you send SMS in Unicode using Sparrow SMS?
You can easily send text messages in different languages using the Unicode SMS service provided by Sparrow SMS. In general, the typical length if SMS is 160 characters, but, for your Unicode message, it is much shorter up to 70 characters per SMS credit. You can easily keep a check on the credits of Unicode SMS via your panel provided by Sparrow SMS.
Sparrow SMS allows you to simply upload your Unicode SMS via exporting Excel sheets or Contact file and send them to a wide target audience faultlessly. This way you can simply broaden your reach for your target audience even in their native languages using Unicode SMS services. This will certainly bring an increase in the sales of your business.
If you want to know more about sending Unicode SMS in the Nepali language, feel free to Call/WhatsApp our SMS experts at 9802005007/08.