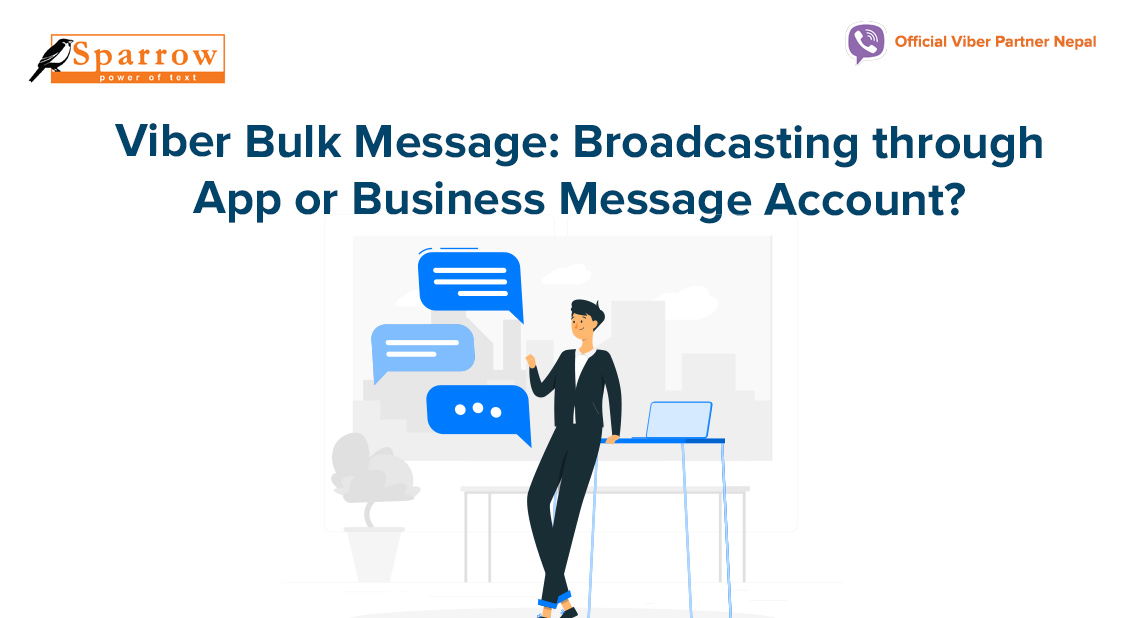 Have you ever needed to send Viber Message broadcasts in bulk? Here's some excellent news for you! You can customize your broadcasts and send them to anyone you want, which may include your clients or customers.
So, let's dig a little deeper into the bulk Viber messaging. But first of all, you should know about the Viber broadcast.
Viber broadcast is the feature of the platform to send bulk messages instantly. Businesses and corporations can send messages through the Viber app or the Viber Business Message account.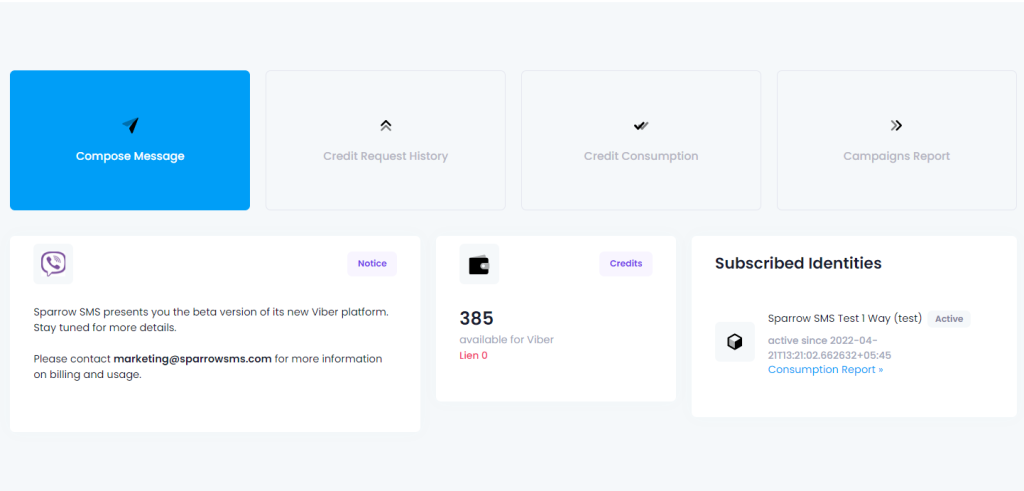 Viber Broadcast with Viber APP
With the Viber app, you can directly broadcast your messages or content directly from the app itself. The contents such as text, images, videos, call-to-action buttons, and much more can be easily sent through the app. 
However, to send such messages the account must have the recipient's numbers saved on the device. Also, the account does not contain management tools such as tracking and reporting. Other features such as setting audience, and scheduling broadcasts won't be accessible in the app.
The free feature can be able to send only to 50 contacts. So, it won't be feasible to use it to send to huge contact lists. For that, the Viber Business Message account is a better choice for companies.
Viber Broadcast with Viber Business Message Account
Viber Business Message accounts can be used for business purposes. Viber users need to subscribe to the Viber Business Message account for conversational messages.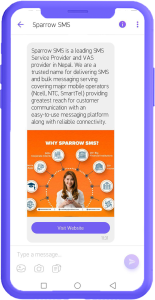 With Sparrow SMS, you can get integration with your own Viber Business Message, from which broadcasts, bulk promotion, and other management tools can be easily accessed.  
Features of Viber Business Message of Sparrow SMS
With a Sparrow Viber account, you will be able to access the following services:
Viber Compose
On the dashboard, you can send transactional messages as well as promotional messages. Under the Transactional section, message content can be sent up to 1000 characters including the emojis to the recipients. You can either include the receivers' number or create a contact group as well.
Whereas, with the promotional messaging section, message content, images with URLs, and buttons can be included. These can be sent to an unlimited number of recipients and contact groups. Business Message these messages can be scheduled or sent immediately after creating the campaigns.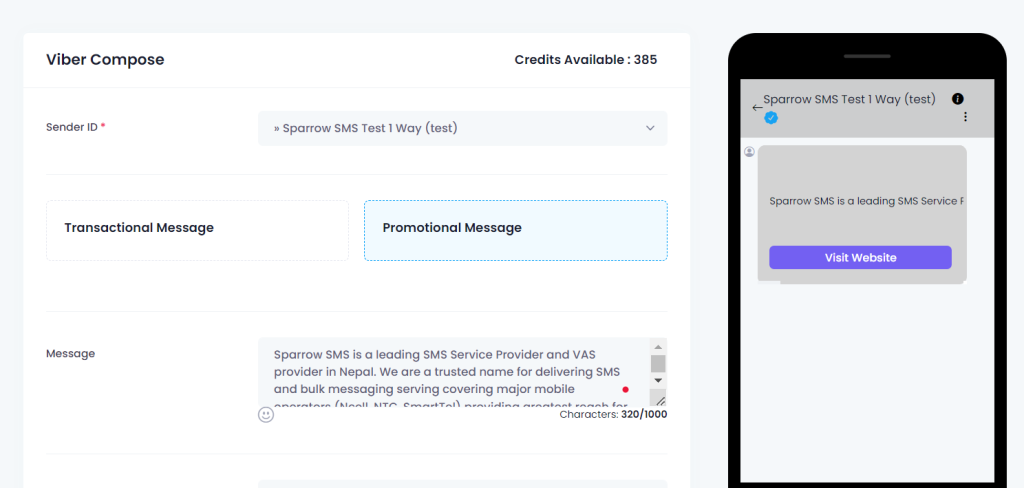 Credits Consumption
Another feature is the credit consumption report. With this, you can enable the start date and end date and acquire credit consumption. You can get information on your available credits and credits used while creating different campaigns. 

Campaigns Report
Under this section, you can access the report of your campaigns. You can filter your messaging type i.e. transactional and promotional messages. Also, you can filter according to the status of your campaigns, pending, predispatch, dispatched, and queued. Moreover, exporting option is also available with the campaign reporting tab.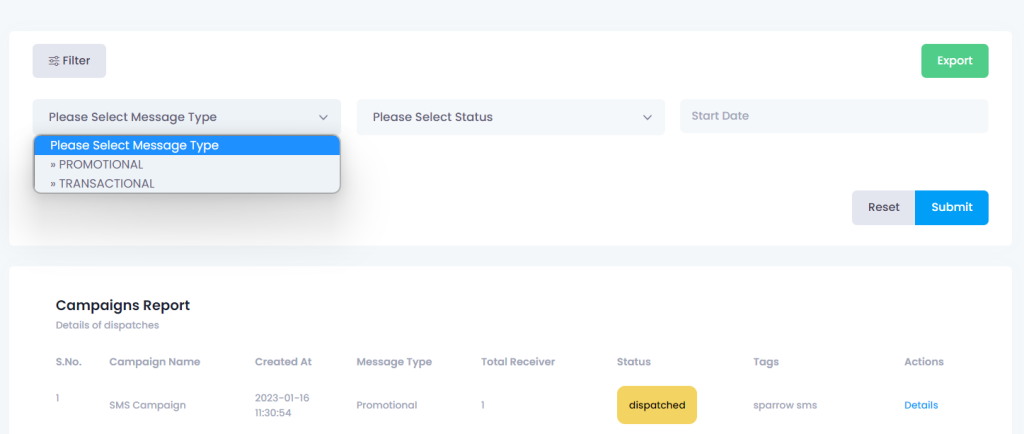 Token Management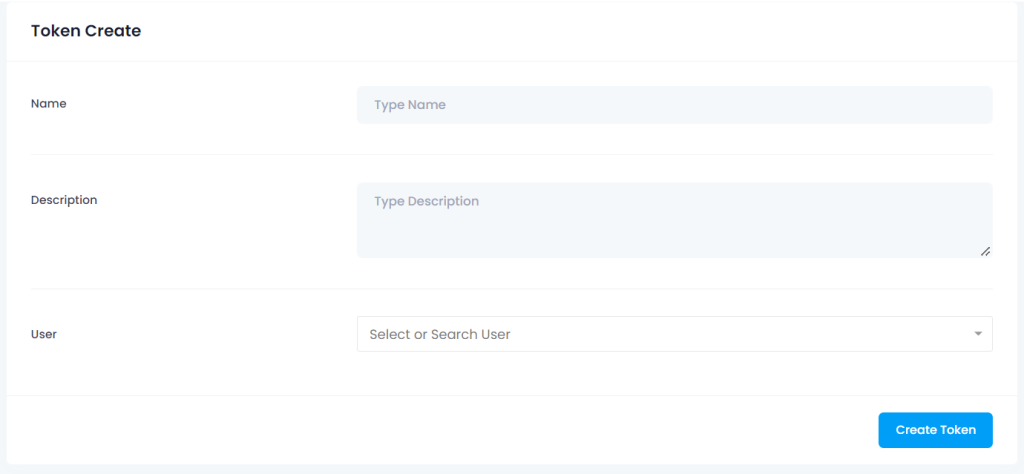 We provide Viber API to integrate your apps and website. You can generate tokens with token management and also create different tokens for different users. You need to specify a name, and description and assign it to users accordingly. 
Contact Groups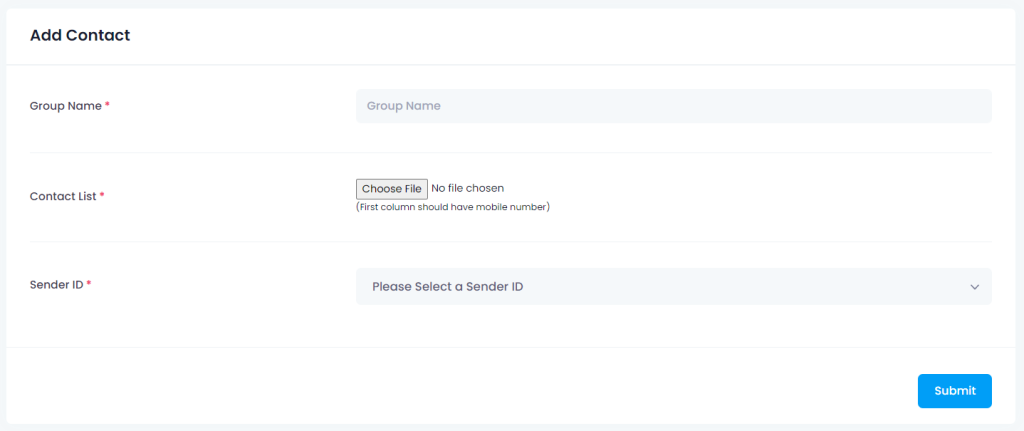 With this section, you can easily segregate your audience list by providing different group names. You can upload phone numbers in excel format, saving you time. You can also manually assign different sender Ids to different contact groups.
Benefits of Viber Broadcasting with Viber Business Message
The first advantage of sending Bulk Messages with a Viber Business Message account is that you will be able to broadcast to an unlimited amount of users. 
With the Sparrow SMS dashboard, users can get receive promotional or transactional notifications from the brand. Management tools such as broadcasting, audience segmentation, and targeting can be accessed with the integration of the System.
In terms of content messages, Viber mass messaging can have images, links to websites, and messages. The broadcast can also be scheduled for a future time and date. The feature can greatly enhance the user experience for informing their clients or customers about upcoming events or programs.
With Viber Business Message, brands can easily create and manage their Business Message account, design interactive menus, and implement features such as data collection through contact groups. Viber Business Message also provides businesses with access to analytical data, which can be used to improve the customer experience.
Comparison: Using an App or Viber Business Message Account for Broadcasting
For a more precise understanding, we have narrowed down the difference between an app and Business Message accounts through the following table. 
| Viber APP | Viber Business Message account (Sparrow SMS) |
| --- | --- |
| Limit up to (50 contacts) | Unlimited number of recipients |
| Basic features  | Advance Features |
| No management Tools  | Management tools such as contacts, audience segmentation, token management |
| No tracking | Campaign Reporting and tracking |
| Useful for small businesses  | Appropriate for medium to large-scale businesses.  |
Viber Broadcasting is a great way to stay connected with clients and promote products and services. In comparison, Viber Business Message is a better value addition to any business messaging marketing. With more advanced features and tools Businesses will be able to fully automate their communication and marketing strategies. 
If your business needs a Viber Business Message account and integration, Give us a call at 9802005007 or request a quote by clicking here.