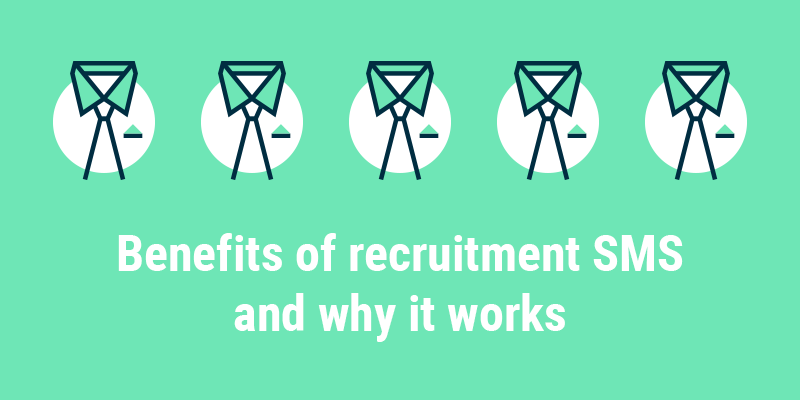 Finding the right candidate is not an easy task for a company. It requires lots of processes, time, and resources along with effective communication. That's where business SMS comes in. SMS Messaging can be one of the most reliable and efficient ways for recruitment agencies to attract top talent.
Communicating via SMS has been the effective tool as all people are very familiar with texting and it has made easy to reach out the candidates instantly and directly. HR need to find various ways to communicate the applicants disturbing their working schedules. So, SMS can be the best channel to get in touch with the applicants at any point in time.
In light of this, we have come up with 6 reasons to give you a clear idea of how business SMS can be a perfect tool to make your recruitment process more effective:
Fill vacancies quicker
According to researchers, the open rate of email marketing is at around 22% whereas SMS marketing is 90% with a response rate of 32% in 3 minutes of delivery. Looking at this stat, if you are alerting potential candidates for a new job, SMS communication will result much better than an email.
As soon as you are notified for a job opening, you can simply send Bulk SMS to your "job seekers" list with a CTA button diverting it to the job description link. This will provide the candidates with all of the information they need to know.
Inform jobseekers of new openings
Integrating SMS to your website or application, you can notify your applicants of new job openings within minutes. Not only that, with the contact manager feature in our bulk SMS panel, you can segment different groups on the basis of their interest, skills, and profession. This also makes it easier for you to send out customized texts.
Send appointment reminders
Once you've found your candidates, you have to make sure that they are on time for their interviews. A simple automated SMS reminding them about the date and time of their interview will help minimize interviews no-shows and saves your time and energy.
You could even reduce the probability of a candidate getting lost by including a link to a business location map and give them instant interview tips.
Inform Job-Seekers of an Application Status
Candidates appreciate being regularly updated about the status of their application. With Bulk SMS, you can instantly inform your candidates of their application status. You can too add links to the company website or employment status report. This will keep every applicant apprised and engaging.
Streamline recruitment process
Texting a candidate will allow your recruitment agency to reduce unwanted outbound and inbound calls significantly. You can set- up automated text message for standard job application questions. It makes you easy to filter out unqualified applicants. So, you can use the extra time in other resources and fill positions faster.
Being a recruiter, if you have overlooked SMS for your hiring process, then you are wasting your valuable time and resources. SMS for recruitment is a powerful tool for promotion and acquire the right talents for the desired position. To speed up your recruitment process, reach us at 9802005007/08.