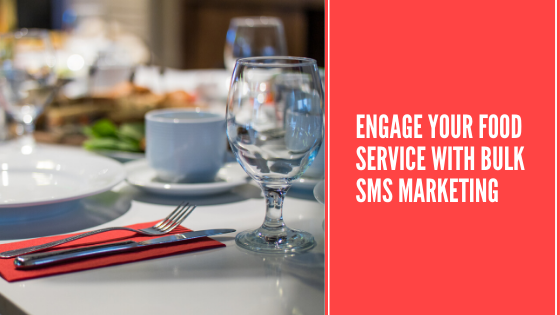 Researchers find that more than 80% of people search for a restaurant on their smartphones. This creates an opportunity for restaurants to use Bulk SMS Marketing as customers use their smartphones to search and decide where to go and what to eat.
Restaurants and hotels are a high competition sector. You should adopt a strong marketing strategy to reinforce your service, value, and promotions to make your customers know the food quality and deliciousness. This makes bulk SMS marketing a perfect channel to reach out customers easily in large masses without much cost.
Here are the key points how a restaurant could acquire and communicate with customers via SMS platform:
Increase Brand Awareness:
The marketing strategy that you choose should promote your brand so that you could inline customers to your brand every time hassle freely. Bulk SMS can be the best channel to reinforce your brand as you can easily convey promotional message instantly and get customer visit your brand.
Promote Offers:
SMS marketing helps to attract new customers with offers, coupons and exclusive discount vouchers. This creates an opportunity to interact with customers in term of new launches, promotions, take feedbacks and convey updates. For example: "Hi Jeena, Get 50%off on your meal today."
Thank you message:
Sending thank you message after a visitor online order to your customers helps to keep a personal touch with them. This aim at generating returning customers. For e.g.: "Thank you for visiting us. Click on the link to rate us. "
Cost effective:
SMS marketing is cheaper than printed ads, TV ads, social media ads, and flyers. Bulk SMS is the best way to reach your customers in the best possible way within your budget.
Return visits:
Your customers will continue your service if you can provide good value than your competitors. Bulk SMS can be used to create a separate contact group for your loyal customers and send a special offer, deals with them only. This will encourage them to become a regular customer.
Scheduled SMS for booking reminders
Sparrow SMS API Gateway service send automated SMS for booking reminders and alerts. So, you can send a quick reservation reminder message. This makes the customer feel special.
For any restaurant business, it is most important to offer the best taste and quality of food to retain their customers but SMS Marketing campaign will help them make it a memorable experience.
If you are from this industry, give SMS a Try.
Call us now at 9802005007/08.