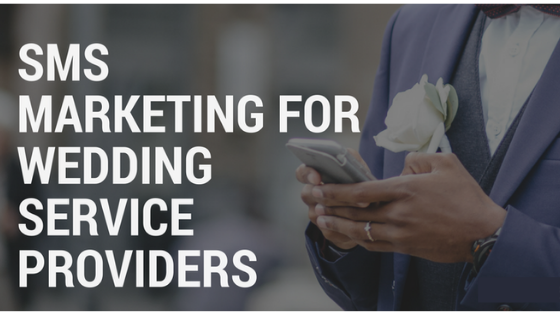 Winter is a peak time of year for wedding service providers as most marriages take place in these matrimonial months. Now, this is the time of year to be making sure that those planning their big day are able to find your wedding service company. Bulk SMS Marketing can be a powerful tool to boost your business and help your customers to minimize the stress on their big day.
Let's see how various wedding service providers can use Bulk SMS Marketing to promote their business?
Here are some suggestions from our experts.
Bulk SMS for Wedding Venues
Choosing the reception venue has been the biggest and most difficult task faced by many people. This is the time when SMS Marketing will help you out to reach your audience. If you create an online lead generation advertisement, this will let your customer opt into your SMS marketing campaign letting to register their interest and requirements. After they opt into your campaign, you can send them personalized messages including CTA buttons to check your website, book a venue or any other additional information. The best way is to allocate a named person for a personal touch with customers and maintain a long-term relationship. This will also ensure that SMS messages are always signed off personally. Once the event has been conducted successively, always make sure to use Bulk SMS to collect feedback from your customers.
Bulk SMS for Wedding Caterers
If you are organizing your wedding function in any restaurant or hotel, they will take care of all the foods so that will be the relief for the customers. But many people subscribe for an external caterer. Bulk SMS can help to simply achieve this by using SMS services for confirming numbers, date, time, menus, venue, or any other special requirements. This can really help to keep things smooth. You should always send your message in advance though, and give offer SMS replies instantly making it easier for clients to respond in minimum effort.
Bulk SMS for Wedding Hair Stylists, Makeup Artists, etc.
Bulk SMS works as wonders if you are one of the individuals whose job is to enhance the beauty of the bride and groom and brings out best in them. Yes, I am talking about hair and makeup stylist. Using bulk SMS, you can send them an immediate appointment confirmation at the time of booking, including date, time and location. You can also send SMS regarding different offers and discounts in the wedding season. Don't forget to collect ratings for your service. This will help you create a good brand image and retain customer relationship.
Bulk SMS for Formal Outfitters
Bride and Groom want to wear the best outfit for their wedding. In fact, they visit many shops and search for online designs before they purchase their final outfit. In this fact, you can reach them before they reach you. Bulk SMS will help you promote your collection and increase your brand awareness.
Bulk SMS for Florists
Managing flowers and garlands are the last minute panic for all as it cannot be prepared and supplied in advance. A florist can use Bulk SMS for order confirmations and delivery before a big day and reduce the pressure of your customer.
Sparrow SMS offers reliable and affordable bulk SMS service in Nepal that can help any businesses to meet transactional and promotional needs. Our friendly and professional team of experts are always ready to help you outgrow your business.
To find out more or get started now, give us a call or WhatsApp on 9802005007/08.