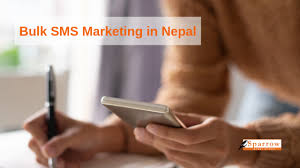 Many companies from different industries are using bulk SMS in Nepal for various transactional and promotional text messaging services. Bulk SMS is an online SMS sending medium that reaches the large target audience.
Promotion is all about creating a brand image through various marketing strategies. And, to create a successful brand image, the company has to focus on reaching the maximum number of customers in a perfect manner. In this case, Bulk SMS Service Provider Sparrow SMS can help you reach millions of people in seconds.
As the competition is getting more aggressive in today's market, it has created many platforms for advertisement and promotion to reach a large number of audiences. This is the time to choose the best marketing tool and you will be happy to know that Bulk SMS marketing is the best and proven marketing platform which can cross the tunnels of success.
There are lots of unique features of Bulk SMS Marketing by which we can reach the maximum number of people and target the audience in the bulk. With the help of Sparrow SMS BULK SMS services, you are not just promoting your product but also educating the people about the products and services directly by targeting the brand image to the audience.
The main purpose why BULK SMS is used by companies is to promote their brand and to attract and to get loyal customers to the client based list. As BULK SMS is the easiest way to reach our audience in a short span of time.
BULK SMS is used by companies for the following requirements:-
For creating a brand image for a new business

To promote the brand promotional offers and discounts.

It helps to give the brand equity to give more value to well-known brand name

We can give important updates through the messages.

It gives notifications about the alerts.

It is used for the collection of feedback on the offered services.
At Sparrow SMS, we offer easy to use bulk messaging platform with the maximum open rate and response ratio over any promoting channel. Our system consists various features like scheduling system, contact manager, report generator and so on that will allow you to extend your business through focused deals and showcasing endeavors.